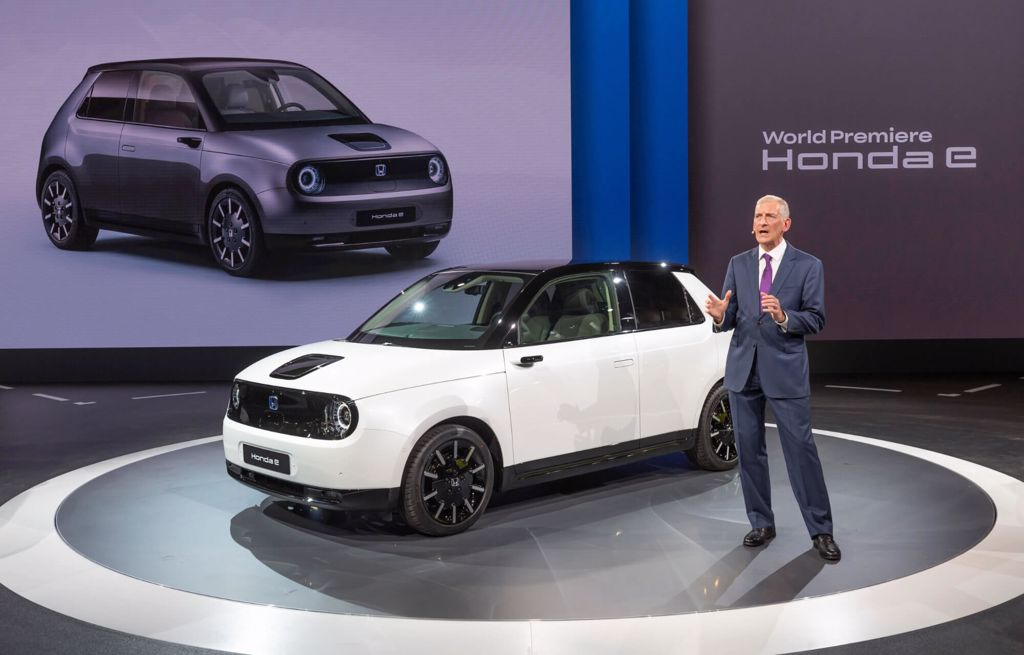 Honda at Frankfurt Motor Show 2019
Honda has unveiled the mass production version of its next-generation electric vehicle, the Honda e, at the 2019 Frankfurt Motor Show. Visitors to the show will be able to see the car's unique range of features through a series of interactive exhibits using virtual reality and other advanced technologies.
The exhibits are a central part of 'EV World', an area inspired by the design ethos of the Honda e which provides a backdrop for sharing its unique features and supporting technology. Alongside the interactive exhibits, Honda will show a range of charging solutions for different scenarios. From a unique on-street urban charging solution developed in partnership with Ubitricity, through to the "Power Manager Prototype" bi-directional system, Honda has developed a range of solutions to meet all customer requirements.
Elsewhere on the booth, Honda will display the CR-V Hybrid alongside an exhibit showing the separate component parts of its responsive and efficient i-MMD full hybrid technology. The car, launched earlier this year, is the first next generation Honda hybrid product on sale in the European market. The hybrid product display will be completed by the 2019 NSX, the pinnacle of Honda's automobile range.
Fresh from two race wins in Austria and Germany, the Honda-powered Aston Martin Red Bull Racing RB15 will be the centrepiece of a display of Honda's sporty-focused products including Civic Type R, Civic Sport Line and HR-V Sport.



Honda confirms details of its energy management technologies for Europe

Honda took the opportunity at Frankfurt to provide further details of its range of EV charging and energy management solutions. These technologies are developed with the aim of providing EV customers with suitable charging infrastructure for both off-street and on-street scenarios, while improving the efficiency of energy supply by actively managing grid demand.




Honda Power Charge

For users who have the option of charging their EV in an off-street scenario, Hondawill launch the Power Charger which allows optimal AC charging. The system consists of a charging system that can be wall or pedestal mounted, with a maximum output of 7.4kW (single phase power supply) or 22kW (three phase power supply). This output allows Honda e owners to charge to 100% capacity in 4.1 hours *, assuming a 32 amp supply, significantly faster than through a standard wall socket. The system has a number of comfort and safety features, including:

- Auto recovery function, ensuring the charger will try to restart up to 5 times if mains supply is interrupted, minimising issues of lower than expected charge

- Integration with home-based renewable energy. For example, the maximum permissible amount of charge can be regulated based on a solar photovoltaic array, home battery or heat pump

- Identification via contactless RFID so only authorised persons can use the system

- A charging cable locking mechanism

The Power Charger features a input switch functionality, allowing users to benefit from cheaper energy costs at times of low demand.




Urban charging solution in partnership in ubitricity

One of the issues for EV drivers in urban environments is a lack of charging infrastructure. In order to address this problem, Honda, in partnership with charging specialists ubitricity, have developed a solution that allows users to charge in urban on-street scenarios. This

technology allows the installation of chargepoints within lamp posts, while a unique cable featuring a mobile metering device allows charging cost to be linked to the customer's tariff to remove the need for subscription to several suppliers.




Honda Power Management Prototype

Honda Power Manager Prototype previews a bidirectional system that connects electric vehicles to a smart power grid. This "vehicle-to-grid" technology enables the collection and distribution of electricity between EVs and the grid to intelligently balance demand and supply of energy and make better use of renewable sources.

The development of these charging functions will integrate electric vehicles further with existing power networks, allowing energy stored in the vehicle battery to power the home, or to flow back into the energy grid during periods of high demand. The vehicle battery can then be replenished at a time when demand is lower, subject to limits defined by the user.

Honda has developed this technology with bi-directional charging specialists EVTEC Trial activity of this technology will continue before future commercialisation in the early 2020s.

A demonstration of the smart grid system on the Honda stand will show how it is possible to efficiently store energy generated by renewable sources and release it back into the home or sell it back to the grid, presenting revenue opportunities for EV owners in the future.

A demonstration project in London is using EVTEC trial units with a local authority. Energy can be used to charge EVs, power the buildings, and feed electricity back into the grid when required.




Race-winning Formula 1 car leads Honda's squad of sporty products

Fresh from an emotional race in Austria, the first Formula 1 victory for Honda in 13 years, and another win at the Hockenheimring in Germany, the Honda stand at Frankfurt features the Honda-powered Aston Martin Red Bull Racing RB15. Currently piloted by young drivers Max Verstappen and Alexander Albon, the team currently lie 3rd in the constructors championship with nine rounds of the 2019 season to go.

The Formula 1 car leads a squadron of Honda's sporty products at Frankfurt.


Civic Type R and Sport Line

The record-breaking Civic Type R continues to draw interest and excitement from customers seeking the ultimate in front-wheel drive performance hatch. Featuring Honda's 2.0-litre VTEC TURBO engine and trademark six-speed manual transmission, the car has a maximum power output of 320ps and 400Nm of torque. The car is one of the fastest accelerating in its class, with an overall top speed of 272km/h.

At the other end of the Civic range, Honda is showcasing the Civic Sport Line. Featuring sport design elements both inside and out, the car is powered by a 1.0-litre 3-cylinder VTEC TURBO unit, with a maximum output of 126ps and 200 Nm of torque.


HR-V Sport

The range of sport products is completed by the HR-V Sport. Launched earlier this year, the car continues to deliver the balance of strong design, technology and packaging that has made HR-V a global best-seller. This Sport edition is a more potent version of the standard car, featuring a 1.5-litre VTEC TURBO unit, with a power output of 182 ps and 240 Nm of torque. 'Performance Damper' technology provides a more responsive and direct driving feel and is unique to this variant. The car is completed with sport design cues inside and out, including gloss black treatments, matte black alloy wheels, and dark red leather interior.
For more information please get in contact.
News