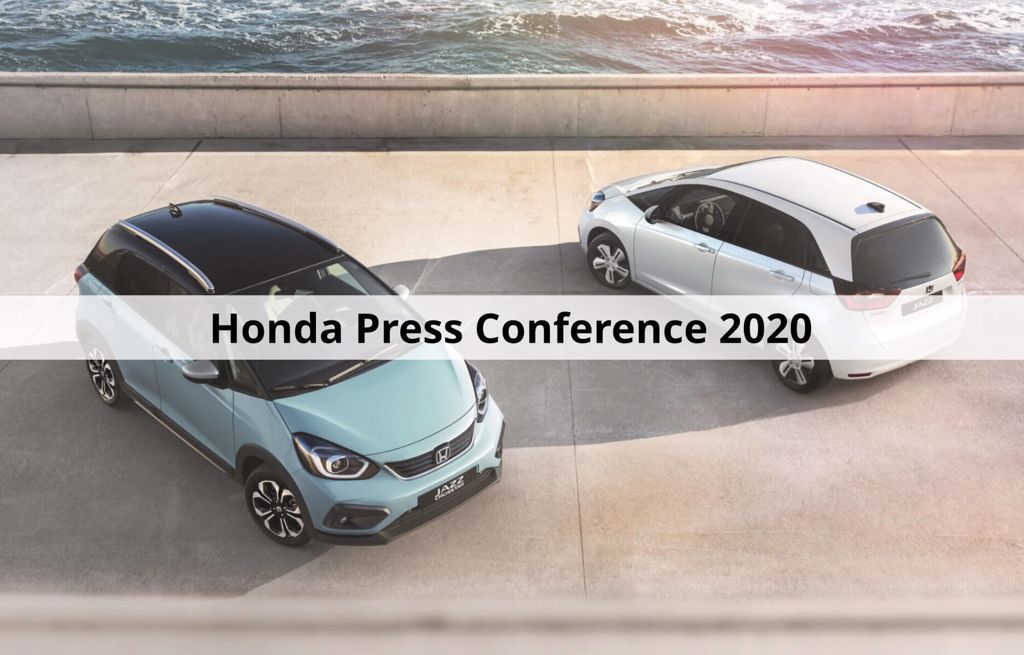 Honda Press Conference 2020
Honda's March 2020 press conference delivered by Tom Gardner, Senior Vice President, Honda Motor Europe.
The press conference reinforces Honda's Electric Vision and its bold commitment that all mainstream models sold in Europe will be electrified by the end of 2022. The next step on this journey will be this year, with the introduction of the fully-electric Honda e and the all-new Jazz with hybrid technology. Through 2021 and 2022, four further new models will be introduced, including a new SUV and an additional electric vehicle. Honda's branding will also change to reflect this vision, with every next-generation electrified product or energy management innovation coming under the collective name of 'Honda e:TECHNOLOGY'.
In addition, Honda understands the importance of charging solutions for EV customers and this year will see Honda introduce its first commercial Energy Management solution, called e:PROGRESS. This solution will allow customers to take advantage of the most cost-effective electricity prices, whilst also optimising the use of electricity from renewable sources. The press conference also details Honda's commitment that all future European models will have intuitive and seamless advanced connectivity available.
All new Honda Jazz e:HEV
The all-new Honda Jazz provides an effortless driving experience with efficient and responsive performance delivered by e:HEV hybrid technology as standard. The all-new compact car offers the most compelling package in its segment, combining increased occupant comfort, intuitive technology, with seamless in-car connectivity and remote services that seamlessly integrate with occupants' everyday lives. The car will be available across Europe in summer 2020.
To broaden the appeal of the model, the rugged Jazz Crosstar variant presents a more SUV-style proposition, orientated toward those with active lifestyles. The model's increased presence comes from a bold front grille design, substantial black trim and stylish side sills and roof rails. The Crosstar-specific alloy wheels, which widen towards the rim, create an increased sense of stability and enhance the overall robust visual effect.

For more information on the All new Jazz e:HEV please contact us today.
Advanced e:HEV hybrid technology
For the first time, the Jazz will be sold exclusively across Europe with an advanced hybrid powertrain. Carrying Honda's new e:HEV badge, the all-new Jazz has been engineered to deliver an exceptional blend of strong performance and impressive efficiency, to complement its class-leading levels of interior comfort and ultimate usability.
The e:HEV system is newly developed for Jazz and engineered to deliver an enjoyable driving experience. It comprises two compact, powerful electric motors connected to a 1.5-litre DOHC i-VTEC petrol engine, a lithium-ion battery and an innovative fixed-gear transmission via an intelligent power control unit, which all work harmoniously together to provide a smooth and direct response.
The total output of 109 PS / 80kW can propel the car to 100km/h in 9.4 seconds and on to a maximum speed of 175 km/h. The effect is an effortless and comfortable journey, whether travelling through urban areas or cruising at high speed on motorways. Its fuel-efficient hybrid system produces CO2 emissions from 102 g/km (WLTP) and fuel economy of 4.5l/100km (WLTP) on the standard model and 110 g/km (WLTP) and 4.8l/100km (WLTP) on the Crosstar.
Watch the full Press Conference below:
For more information on the Jazz e:HEV or e:HEV hybrid technology, please contact us today.
News