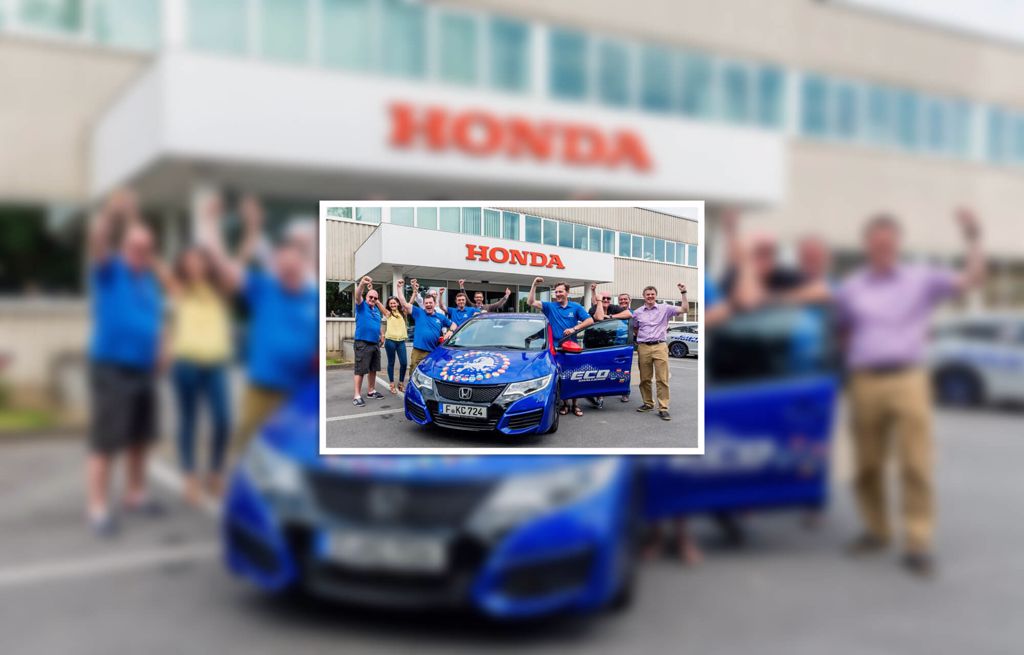 Honda sets new Guinness World Record
For fuel efficiency, setting the 'Lowest fuel consumption
Honda has set a new GUINNESS WORLD RECORDS title for fuel efficiency, setting the 'Lowest fuel consumption – all 24 contiguous EU countries (all cars)', recording an average 2.82 litres per 100 kilometres (100.3mpg) over 13,498 kilometres, in a 25 day drive across all 24 EU contiguous countries.
Behind the wheel of a Honda Civic Tourer 1.6 i-DTEC for the entire journey were two members of Honda's European Research & Development (R&D) team, Carlow native Fergal McGrath and Julian Warren, who took on the challenge to further demonstrate the impressive real-world fuel economy of the Tourer.
The remarkable distance travelled is similar to the team driving from Ireland to Australia, stopping just nine times to refuel. The car achieved an incredible average 1,500 kilometres on each tank of fuel, at a total fuel cost for the whole journey of just €645.
The team set out on their epic road trip from Aalst, Belgium, on Monday June 1st, navigating the continent in a clockwise direction. They returned to their start point on Thursday June 25th, recording the incredible fuel economy figures which exceed the Tourer's quoted efficiency of 3.8 litres per 100 kilometres by more than 25%.
Fergal McGrath comments: "It was tough, but we really enjoyed it, and setting this new GUINNESS WORLD RECORDS title has made all of the hard work worthwhile. This was a huge team effort so I'd like to thank everyone involved for all of their commitment and support. After spending so much time behind the wheel Julian and I are just happy to be back behind our desks for a while!"
The official GUINNESS WORLD RECORDS title is 'Lowest Fuel Consumption – all 24 contiguous EU countries', measured in litres per 100km and miles per gallon calculated over the entire journey.
Under the rules the same two drivers must be in the car for the whole journey, giving Fergal and Julian, Honda R&D colleagues of some 18 years, the challenge of driving an average of approximately 600 kilometres, taking around 7.5 hours, each day.
Based on strict and rigorous guidelines, the GUINNESS WORLD RECORDS title attempt required the car to enter each of the 24 countries specified, collecting a range of evidence including a fuel/mileage logbook, GPS readings, video and photographs and independent witness signatures to prove that it has done so. To ensure accurate monitoring of the route, journey time and distance driven, the record car was fitted with a tracking device, provided by fleet telematics and stolen vehicle recovery expert, TRACKER.
Under the rules of the record title attempt the car must be a standard model in every respect, with no modifications to create an advantage, to replicate 'real world' conditions. This was judged by independent witnesses at the beginning and end of the attempt. Fuelling was carried out at regular filling stations, with the tank filled to the maximum at each stop to ensure no weight advantage. Additionally, tyres were inflated to the recommended pressures and the wheel alignment set to factory specification to represent the experience of the regular customer.
The team, both amateur drivers, were also keen to show that through adopting some simple but very effective driving techniques, anybody could achieve such remarkable fuel economy. They simply used some very logical methods including careful and sensible route planning, driving smoothly and consistently without harsh acceleration or braking, anticipating the road conditions ahead, carrying no unnecessary weight, and ensuring that the car was correctly maintained at all times. Driving speed was always within the law and keeping up with traffic conditions.
Emmet Kavanagh, Marketing Manager at Universal Honda Ltd., comments: "This is an incredible achievement and the team should all be very proud of the efforts that they have put in to set this new GUINNESS WORLD RECORD. The fuel economy figures are remarkable – particularly when you consider that this is not a unique eco car specially designed and tuned for the challenge, but a spacious diesel family car, identical to the Civics available at Honda Dealers nationwide."
Originally published July 2015.
News