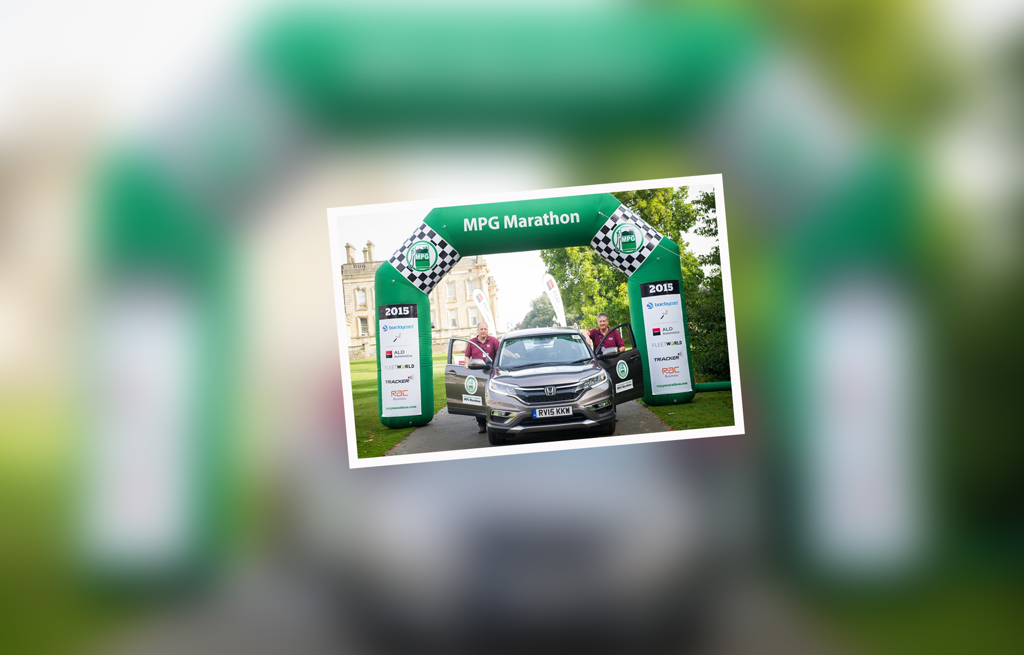 Honda shines again at MPG Marathon 2015
Rigorous two day real-world driving challenge over 650km
CR-V 1.6 i-DTEC scoops first place for 'Best Percentage Improvement' on quoted fuel economy with outstanding average of 3.4l/100km (84.34 MPG)
Civic Tourer 1.6 i-DTEC wins first place in its class for 'Outright MPG', taking third place overall for improvement on fuel economy
Civic 1.6 i-DTEC records incredible average of 3.0l/100km (93.81 MPG), driven by the youngest ever competitor team, aged 17, just weeks after passing their driving tests
The three Honda teams which took part in this year's 'MPG Marathon' continued the marque's solid track record of success, scooping first and third place for 'Best percentage improvement' on quoted fuel economy and best in class MPG; while a pairing of 17 year olds recorded an incredible average 3.0 l/100km (93.81 MPG) just weeks after passing their driving tests as the youngest participants to ever undertake the challenge.
Topping the league for Honda was Paul Clifton, a transport correspondent for the BBC, and former police inspector, Shaun Cronin. Their CR-V 1.6 i-DTEC recorded an average 3.4l/100km (84.34 MPG) - some 31.37% over the car's quoted fuel economy – taking first place for 'Best Percentage Improvement'.
Following in third place in the category were last year's winners, Fergal McGrath and Julian Warren. Once again in a Civic Tourer 1.6 i-DTEC, the team achieved an average 3.1 l/100km (90.46 MPG) - 24.94% over the Tourer's quoted fuel economy. The achievement also earned the team first place for 'Outright MPG' in their class of diesel cars with CO2 emissions of 100g/km or more.
Organised by Fleet World magazine, the MPG Marathon is 650km worth of driving designed to be a true real-world test that demonstrates the benefits to both the environment and the motorist's pocket of employing simple, smarter driving techniques. This year's event challenged competitors to find the most efficient route between set checkpoints, taking into consideration possible congestion hotspots.
The performance of the Honda teams once again highlights the outstanding real-world fuel economy of Honda's super-efficient 1.6 i-DTEC engine under the scrutiny of rigorous independent testing. Not content with just lifting last year's MPG Marathon title for 'Best Outright MPG', in June Honda R&D engineers Fergal McGrath and Julian Warren set a new GUINNESS WORLD RECORD for fuel economy. Behind the wheel of a Civic Tourer 1.6 i-DTEC the pair crossed all 24 mainland EU countries, covering over 13,000km in just 25 days, averaging an incredible 2.8 l/100km (100.31 MPG) for the entire journey.
Fergal McGrath comments: "Once again the MPG Marathon attracted a tough line-up, and while we didn't manage to scoop the overall title for the second year in a row we are very pleased with our performance. Congratulations to everyone, but particularly to Paul and Shaun who pipped us on best improvement in the CR-V."
The award-winning Earth Dreams Technology 1.6 i-DTEC engine is available across the Honda Range, including the Civic, Civic Tourer, CR-V and the upcoming HR-V.
Originally published October 2015.
News