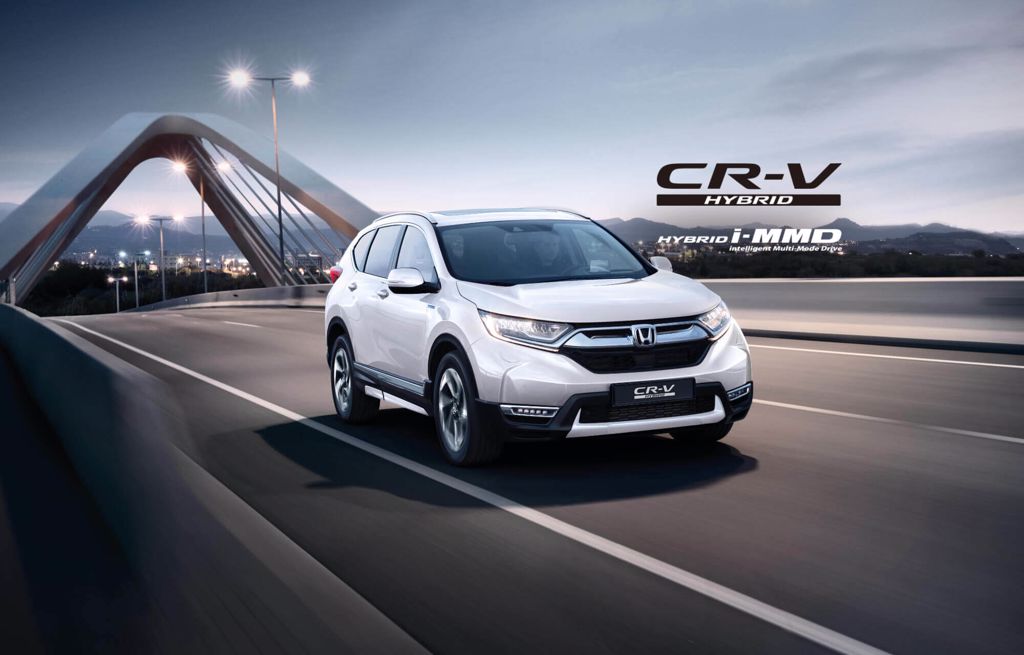 All-new CR-V will be available in February 2019.

Honda have released details on the much anticipated all-new CR-V Hybrid available in our dealerships from February 2019 and available from €38,000*.
The Honda Hybrid Performance system features intelligent Multi-Mode Drive (i-MMD) technology comprising two electric motors, an Atkinson-cycle petrol engine and an innovative direct transmission delivering high levels of efficiency and refinement.

The CR-V Hybrid is equipped with an efficient 2.0-litre i-VTEC petrol engine, a powerful electric motor and a lithium ion battery pack. The maximum output is 184 PS (135 kW) with torque of 315 Nm. Honda has confirmed official fuel economy and CO2 emissions for the all-new CR-V Hybrid. Under the combined cycle of the revised NEDC test, the front-wheel drive model of the 184 PS (135 kW) petrol-electric SUV has achieved CO2 emissions of 120g/km and official average (combined) fuel economy of 5.3l/100km (53.3mpg). The all-wheel drive CR-V Hybrid variant has CO2 emissions of 126g/km and average (combined) fuel economy of 5.5 l/100km (51.4 mpg).

Rather than using a conventional transmission, a single fixed-gear ratio creates a direct connection between moving components, resulting in a smoother transfer of torque. This format means Honda's system is more refined than a planetary e-CVT typically found in other hybrid vehicles.

Honda's unique i-MMD technology is so-named as it intelligently and automatically switches seamlessly between three driving modes to provide the highest possible efficiency. These modes comprise:
EV Drive – draws energy from the lithium-ion battery pack to power the electric propulsion motor and drive the wheels (with the petrol engine turned off)


Hybrid Drive – the petrol engine powers a second motor/generator that supplements electrical energy from the battery pack


Engine Drive – a lock-up clutch mechanism


The All-New CR-V Hybrid is available from €38,000*
*RRP includes Government Hybrid VRT allowance of €1,500.

The All-New CR-V Hybrid will be available in Honda dealerships nationwide from February 2019.
Contact us for more information on the arrival of the all-new CR-V Hybrid.
News