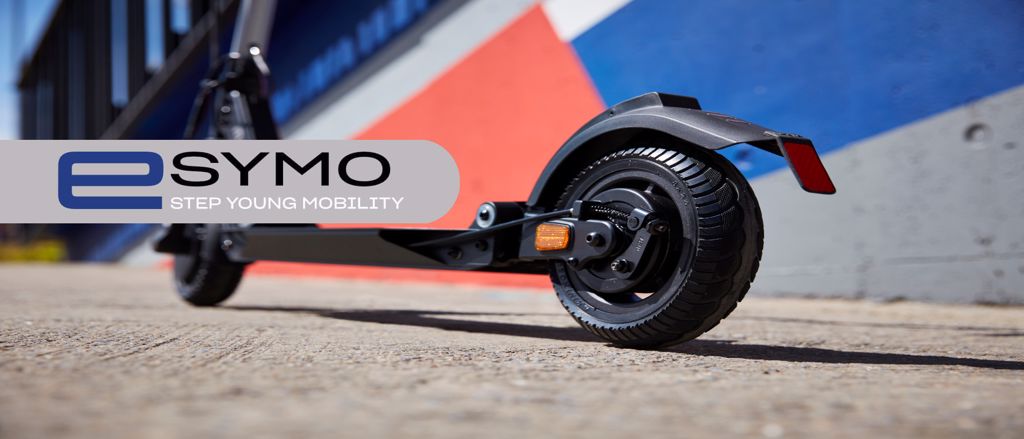 All-New Honda eSYMO Scooter
The Honda eSYMO (e-Step Young Mobility)
Available now from your local Honda dealer.
Offering the best-in-class riding comfort, a range of up to 25 kilometres and a top speed of up to 25km/h. Combining the front and rear suspension with big wheels provides the perfect driving feel even when street conditions are rough. Next to this the extra brake lever system assures maximum safety while driving.
When manoeuvring in dark conditions the headlight and rear light make navigation easy and safe. The illuminated electronic display gives the rider an overview of the ambient temperature, the battery status and different driving modes. Additional benefits of the eSYMO are that the driver is able to change the speed with only a few clicks to his personalized pace and that the Honda eSYMO is self-standing when halfway folded.
Part No.: A08Z15-TYF-G00
RRP €937.62 +VAT
Features
Big wheels combined with front and rear suspensions ensure a smooth ride and high comfort level
Easy to store in your car or at home thanks to the intuitive folding mechanism
Electronic display providing key information to the rider
Additional brake lever system for optimal safety
Adjustable handlebar height
Easy to reach charging port
Technical Specification

Weight

12kg

Max Load

100kg

Range

25km

Charging Time

3 Hours

Rear Light

Yes

Handlebar

900 - 1085mm

Dimension Folded

105x14.5x32cm

Deck

Size 430mm Material Aluminium

Wheels

Front 200mm, Airless Rubber Tyres
Rear 200mm, Airless Rubber Tyres

Riding Programs

Pedestrian mode: 6km/h, 250W
Eco mode: 20km/h, 300W
Standard mode: 25km/h, 500W
Sports mode: 25km/h, 500W

Speed Setting

6 / 20 / 25km/h

Max Power

500W

Acceleration

Thumb accelerator
Part No.: A08Z15-TYF-G00
RRP €937.62 +VAT
For more information on the brand new eSYMO Scooter, please contact your local Honda dealer today.